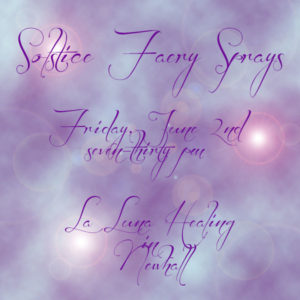 Join Ayamanatara and the Fae for a fun workshop in which you'll create an individualized spray in honor of the Solstice to help you through what you're working on. Learn about aromatherapy, crystals, moon waters, and herbs in the process!
While we will be using scents fairly sparingly, and the oils are organic, this is probably not the workshop for the strongly scent-sensitive.



Friday, June 22nd
7:30-9:00pm
La Luna Healing
23236 Lyons Ave #214 | Newhall 91321
$36
Registering in advance helps make sure there will be enough materials for everyone!